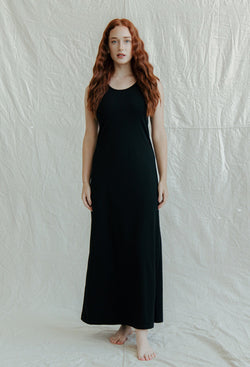 Our new bamboo range is made from a sustainable crop. It outlasts cotton in keeping shape, strength and durability three times over when cared properly. It's incredibly insulating: keeps you cool in the heat and warm in the cold. It's antibacterial and is highly sweat absorbent. It's hypoallergenic and can be worn by anyone without causing any allergic reactions or skin irritation, unlike cotton.

RECOMMENDATIONS/CARE INSTRUCTIONS
Wash in cold to warm water with a gentle detergent, preferably an eco-friendly kind. DO NOT BLEACH. Use a gentle cycle. Dry bamboo on a flat line or if needed, dry on cool settings. Iron on the lowest heat.

FEATURES

Material: Bamboo

Thickness: Medium

Model is a size 8 and is wearing a SIZE 6 in the sleeveless body dress. We recommend going one size down.